Discover Beauties of a New World
The best way to get the most out of your time and taste on your way to visit a fascinating country is to enjoy a customized tailor-made tour fashioned within our realm of expertise.
Browse through our wide selection of modern and traditional hotels all around Iran and choose your desired accommodation to create a memorable holiday experience.
Renting a vehicle in Iran is no longer a problem. Whether you intend to travel to Iran for business or pleasure, we will make sure to provide you with the best transfer options possible.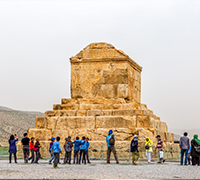 Enjoy an exceptional experience with our highly qualified tour guides who revel in exploring the most marvelous attractions of Iran leaving you with a sense of amazement and inspiration.
Highlights of Ancient Iran
Discover the Ancient Metropolises of Iran Such as Tehran, Ahwaz, Shiraz, Isfahan and etc. by yourself in 10 days and 9 nights.
Adventuring in Iran is not like anywhere else! Take this great opportunity to embark on a thrilling journey that will quench your thirst for excitement in Persian Megacities for instance Tehran, Shiraz, Yazd, Isafahan and etc. for 10 days and 10 nights.
Hop on a time travel machine and visit the epic Persian cities like Tehran, Shiraz, Kerman, Yazd, Isafahan and etc. for 13 days and 12 nights.
Iran was and is a welcoming host to many religions in history, these religions affected the Persian culture and environment in a very exciting and distinguishable manner. Discover all of these religious sites in a comprehensive tour for 14 days and 13 nights.
To read more about our tours and packages please click here and let the adventure begin …
We had the honor of providing services for:

This village, at 1700m elevation and just north of the no-torious Evin Prison, is one of Tehran's most pleasant urban escapes
At 370,000 sq km the Caspian (Darya-ye Khazar) is five times the size of Lake Superior.That  makes it by far the world's largest lake.
This  popular in town escape stretches ever more steeply up the mountainside at Tehran's northern edge
Like the Dead Sea, huge Lake Orumiyeh is so super salty that you just can't sink. A Unesco Biosphere Reserve since 1976.
When we started Diba Tour and Travel Agency 20 years ago, we dreamed of being able to offer the most inspiring experiences inside Iran and all around the world. We understood that travel should be amazing, exciting, intriguing, full of discovery and memorable More …
© 2019 DibaTravel. Provided by SISARV