اروپا انگلستان آژانس دیبا
معرفی
انگلستان، سرزمینی کهن در شمال قاره‌ اروپا است. این کشور بخشی از حکمرانی بریتانیای کبیر به شمار می‌رود و جزایر کوچک و بزرگ بسیاری در آن جای گرفته‌اند . انگلستان نقش انکار ناپذیر و مهمی در معادلات جهانی ایفا می‌کند و به دلیل طبیعت چشم‌نواز و همچنین آثار تاریخی زیبا و ارزشمند، به یکی از مقاصد مهم گردشگری تبدیل شده است. انگلستان در بخش جنوبی بریتانیای کبیر قرار دارد و با مساحتی بالغ بر ۱۳۰ هزار و ۲۷۹ کیلومتر مربع، جمعیتی حدود ۵۵ میلیون نفر را در خود جای داده است. مردم این سرزمین کهن، انگلیسی‌زبان با گویش بریتانیایی هستند و از واحد پوند (£) در معاملات خود استفاده می‌کنند.
دین اصلی در انگلستان مسیحیت است. اما دین‌های دیگری از جمله یهودیت و اسلام نیز در بین مردم این کشور رواج دارد. این کشور از غرب با ولز و از شمال با اسکاتلند همسایه است. همچنین در شمال غرب با دریای ایرلند، در شرق با دریای شمال و در جنوب غربی با دریای سلتی مرز مشترک دارد. در بخش جنوبی نیز با کانال مانش از اروپای قاره‌ای و فرانسه، جدا می‌شود. آب و هوای انگلستان معتدل است. در تابستان آب و هوایی سرد و در زمستان اقلیمی معتدل دارد.
لــــــنـــدن
لندن، پایتخت انگلستان و پادشاهی بریتانیا است. نوع حکومت انگلستان به عنوان بخشی از پادشاهی بریتانیا، سلطنت مشروطه به شمار می‌رود و این کشور توسط پارلمان بریتانیا اداره می‌شود. بیرمنگام، منچستر، لیورپول و لیدز از مهم‌ترین شهرها پس از لندن، محسوب می‌شوند. لندن، شهری است مملو از زیبایی‌های خاطره‌انگیز که گردشگران زیادی را به خود جذب می‌کند. چشم لندن، چرخ و فلکی غول‌پیکری که در سال ۲۰۰۰ میلادی افتتاح شد، پل برج لندن با قدمتی حدود ۲ قرن که روی رودخانه‌ تایمز بنا شده است، کاخ وست‌مینستر که در سال ۱۸۵۸ میلادی ساخته شد، برج لندن با پیشینه‌ای متعلق به قرن یازدهم میلادی که میزبان مجموعه‌ای از جواهرات بی‌نظیر از جمله تاج شاهنشاهی است، کلیسای جامع سنت پل که به قرن ۱۷ میلادی تعلق دارد و از لحاظ وسعت، پس از کلیسای سنت پیترو رم، بزرگ‌ترین کلیسای جهان به شمار می‌رود، کاخ باکینگهام که میراثی ارزشمند و بسیار مهم است و محل اسکان ملکه الیزابت نیز محسوب می‌شود و دیگر دیدنی‌های لندن، تنها بخشی از زیبایی‌ها و جاذبه‌های گردشگری شهر لندن هستند که هر توریستی مشتاق دیدار از آنها است.
علاوه بر لندن، مناطق دیگری نیز در این کشور وجود دارد که می‌توان آن‌‌ها را از مقاصد گردشگری به شمار آورد. باث، شهری اشرافی با ساختمان‌های باشکوه و زیبا، و برخوردار از چشمه‌های آب گرم است که هر ساله میزبان مسافران بسیاری از سراسر جهان می‌شود. دانشگاه کمبریج در سال ۱۲۰۹ میلادی ساخته شد و یکی از برترین دانشگاه‌های دنیا شمرده می‌شود. آکسفورد، از قدیمی‌ترین مناطق انگلستان است که یکی از کهن‌ترین دانشگاه‌های جهان، دانشگاه آکسفورد در آن قرار دارد. در این منطقه می‌توان بقایای قلعه‌ آکسفورد و ساختمان کلیسای جامع مسیح را نیز مشاهده کرد که از تاریخ کهن این کشور می‌گویند.
دریاچه‌ دیستریکت، یکی از زیباترین جاذبه‌های طبیعی در انگلستان است که با چشم‌اندازی باورنکردنی در کامبریا قرار دارد. همچنین دریاچه ویندرمیر، طولانی‌ترین دریاچه‌ انگلستان نیز در این منطقه قرار گرفته است که فضایی منحصربه‌فرد را به وجود می‌آورد. زیبایی‌ها و جاذبه‌های گردشگری در انگلستان چنان زیاد است که سفر به این سرزمین، نیازمند زمانی طولانی است تا بتوان با تماشای تمامی آن‌ها، لذتی شگرف را تجربه کرد.
ساعت محلی انگلستان ۳.۵ ساعت از ساعت ایران عقب‌تر است و هموطنان عزیز برای سفر به این کشور کهن، نیازمند ویزا هستند.
لندن ، پایتخت انگلستان و پادشاهی متحد بریتانیا است و همچنین بزرگ‌ترین و پرجمعیت‌ترین شهر در بریتانیا و بزرگ‌ترین ناحیه شهری از نظر مساحت در اروپا نیز محسوب می‌شود. این شهر اروپایی که در کنار رود تیمز قرار دارد، قدمتی دو هزار ساله دارد و تاریخ ساخت آن به دوران روم باستان برمی‌گردد. توسعه لندن از قرن ۱۹ شروع شد و امروزه این شهر مهم‌ترین شهر انگلستان به شمار می‌آید و ساختار اداری بسیار گسترده‌ای دارد.
ساکنان لندن از ۲۷۰ ملیت مختلف هستند و با بیش از ۳۰۰ زبان صحبت می‌کنند. این تنوع فرهنگی بر جنبه‌های مختلف زندگی در لندن از غذا و مد گرفته تا موسیقی تاثیر گذاشته است.
زبان رسمی مردم، انگلیسی و واحد پول‌شان پوند استرلینگ است. شهر لندن طبق آمارهای رسمی جمعیتی بالغ بر ۸,۱۳۶ نفر (در سال ۲۰۱۱) را در داخل محدوده شهری به مساحت ۱,۵۷۲ کیلومتر مربع خود گنجانده است و به‌عنوان پرجمعیت‌ترین شهر در اتحادیه اروپا مطرح می‌شود. شهر کوچک‌تر سیتی لندن که درون لندن واقع شده، یکی از مراکز مهم مسکونی شهر لندن به حساب می‌آید و امروزه دو میلیون نفر را در خود جا داده است. مردم لندن از پیروان مسیحی، بودایی، هندو، یهودی، اسلام،‌ سیک و سایر مذاهب یا بدون مذهب هستند.
در سال ۲۰۱۶ لندن ششمین شهر گران و پرهزینه‌ی جهان برای زندگی شناخته شد و با بیش از ۷۲ میلیاردر، بیشترین میلیاردرها را میان دیگر شهرهای جهان دارد.
لندن، آب و هوای معتدل اقیانوسی دارد و تابستان‌های گرم و زمستان‌های نه چندان سرد از ویژگی‌های آب و هوای این شهر است. بنابراین، هر زمان از سال که اراده کنید، می‌توانید برای سفر به لندن برنامه‌ریزی کنید و از این بابت در طول سال هیچ محدودیتی ندارید.
این شهر یکی از قطب‌های حمل و نقل بین‌المللی در جهان و دارای پنج فرودگاه بین‌المللی است. لندن بزرگ‌ترین سیستم اتوبوس‌رانی شهری در جهان را دارد، به‌طوری که خدمات به‌صورت شبانه‌روزی توسط ۸۵۰۰ اتوبوس، بیش از ۷۰۰ مسیر و ۱۹٬۵۰۰ ایستگاه ارائه می‌شود. علاوه‌براین، یکی از مراکز تجاری، مالی و فرهنگی عمده در جهان است و تأثیر فراوانی در سیاست، آموزش و پرورش، سرگرمی، رسانه‌ها، معماری و هنر دارد.
از دیدنی های لندن می‌توان به کاخ باکینگهام، موزه بریتانیا، برج لندن، تاور بریج، ساعت بیگ بن، کلیسا وست مینستر، پارک هاید، چشم لندن،دیوار لندن، گورستان هایگیت،‌ کلیسای جامع سنت پل،‌ کاونت گاردن و موزه مادام توسو اشاره کرد که باید در تور لندن از آن‌ها دیدن کنید
تا در لندن هستید می‌توانید اقلامی نظیر عطر و زیورآلات، شال کشمیر، چای و بیسکوییت،‌ شکلات، خرس تدی هرودز، لوازم آرایشی و بهداشتی، سوغاتی‌های خاص انگلیسی نظیر نمونه‌های مینیاتوری کاخ باکینگهام یا برج ساعت لندن را به‌عنوان سوغاتی تهیه کنید.
بهتــرین زمان بـرای بـازدیــــد :
تمام سال
انگلستان پس از سده ۱۹ میلادی در بخش ورزش پیشرفت‌های بسیاری داشته‌است، ورزش‌هایی مانند فوتبال، کریکت، راگبی ۱۳ نفره، راگبی ۱۵ نفره، تنیس، بدمینتون، اسکواش، هاکی، بوکس، دارت، بیلیارد، اسنوکر، تنیس روی میز، تروبرد و نت‌بال از این کشور منشأ گرفته‌است. همچنین قایق‌رانی و مسابقات فرمول یک به وسیله انگلیسی‌ها پیشرفت‌های بسیاری کرده‌است
فوتبال محبوب‌ترین ورزش در کشور انگلستان است. تیم ملی فوتبال انگلستان در جام جهانی فوتبال ۱۹۶۶ و در ورزشگاه ومبلی قهرمان این مسابقات شده‌است.
باشگاه فوتبال شفیلد که در سال ۱۸۵۷ میلادی تأسیس شده، از سوی فیفا به عنوان قدیمی‌ترین باشگاه فوتبال معرفی شده‌است.باشگاه‌های لیورپول، منچستر یونایتد، ناتینگهام فارست و استون ویلا و چلسی قهرمان لیگ قهرمانان اروپا شده‌اند، همچنین تیم‌های آرسنال و لیدز یونایتد و تاتنهام هاتسپر در فینال این مسابقات حضور داشته‌اند
غـــــــــذا
آشپزی انگلیسی نیز مانند هر آشپزی دیگری سبک و سیاق خاص خود را دارد. برخی غذاها مانند نان و پنیر، گوشت‌ها به صورت بریان‌شده، خورشتی یا پای، سبزیجات آب‌پز یا خورشتی و ماهی‌های آب‌های شیرین و شور ریشه در تاریخ دارند. کتاب آشپزی متعلق به قرن ۱۴ طرز تهیه همه این غذاها را توضیح داده است. آشپزی انگلیسی از قرون وسطی  تحت تاثیر مواد اولیه خارجی قرار گرفت. به عنوان مثال ادویه کاری با دستور پخت مرغ کاری توسط هانا گلاس از هند وارد آشپزی انگلیس شد.در دوران ویکتوریا آشپزی فرانسوی، و بعد از جنگ جهانی دوم آشپزی ایتالیایی، چینی و تایلندی تاثیر فراوانی بر غذاهای این کشور نهادند.
ماهی و سیب‌زمینی سرخ‌کرده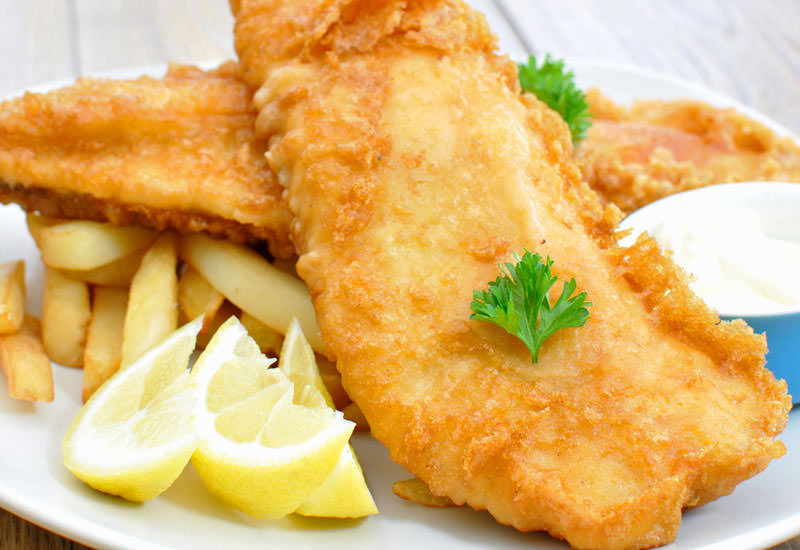 ماهی و چیپس یکی از اصیل‌ترین غذاهای انگلیسی است و همان‌طور که از نامش پیدا است از ماهی و سیب‌زمینی تهیه می‌شود. برای تهیه، فیله ماهی سنگسر یا هر ماهی دیگر را در خمیر نانوایی خوابانده سپس در روغن زیاد سرخ می‌کنند. سیب‌زمینی‌ها را نیز به صورت خلالی درشت خرد و سرخ می کنند. این غذا به دلیل روغن (چربی) فراوان به افراد بیمار توصیه نمی‌شود.
این غذا به طور سنتی با نخودفرنگی، نمک و سرکه خورده می‌شود
Poppy's، Shoreditch و Camden رستوران‌های پیشنهادی
کباب یکشنبه با پودینگ یورکشر (Sunday Roast with Yorkshire Pudding)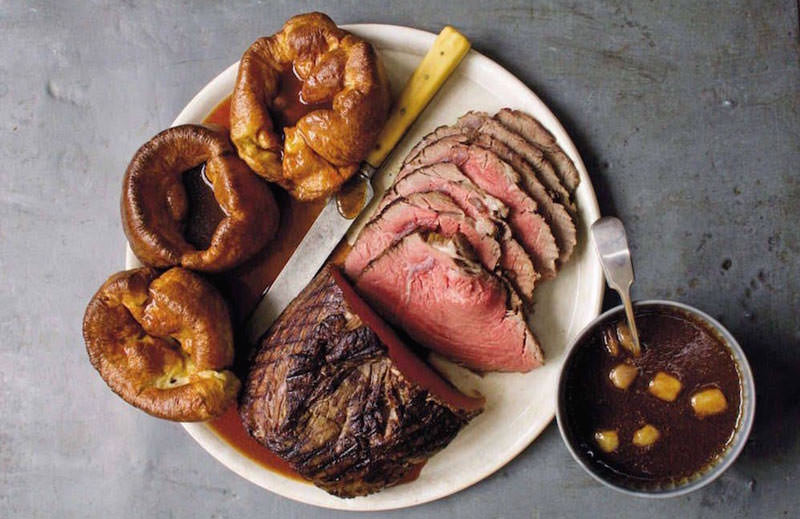 انگلیسی‌ها ساندی روست یا کباب یکشنبه را روزهای یکشنبه می‌خورند. این غذا از گوشت کبابی و سیب‌زمینی کبابی تهیه می‌شود و آن را همراه با پودینگ یورکشر، سوسیس، سبزیجات (زردک، ذرت شیرین، کلم دکمه‌ای، لوبیا قرمز، نخودفرنگی، هویج و بروکلی) و سس گریوی سرو می‌کنند. برای تهیه کباب از انواع گوشت بوقلمون، گوساله، مرغ و بره می‌توان استفاده کرد
اتون مس (Eton mess)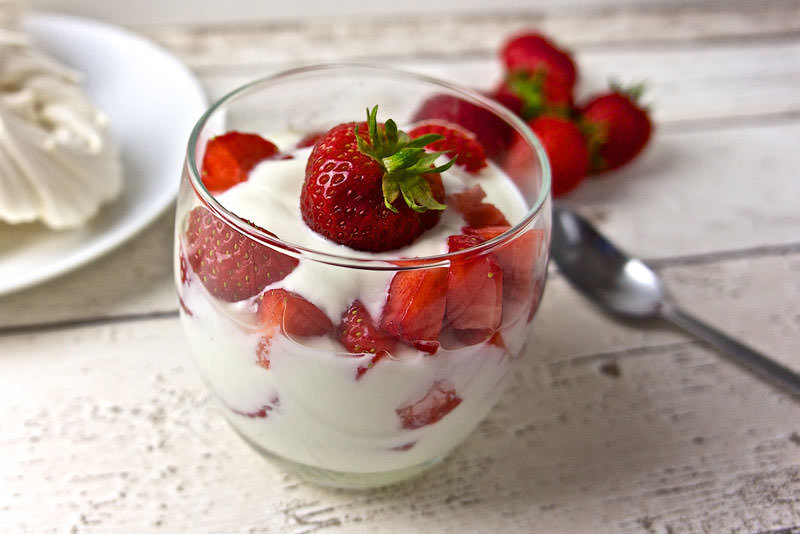 اتون مس دسری آسان و خوشمزه است که نام خود را از نام مدرسه پسرانه‌ای اتون گرفته است. این دسر اصالتا از ترکیب توت‌فرنگی، مرنگ (ترکیب سفیده تخم‌مرغ و شکر) و خامه زده‌شده غلیظ تهیه می‌شود. گاهی به جای توت‌فرنگی از میوه‌های دیگر و از بستنی به جای خامه استفاده می‌کنند
 The National Cafe و The National Gallery رستوران های پیشنهادی
پای و پوره (Pie and mash)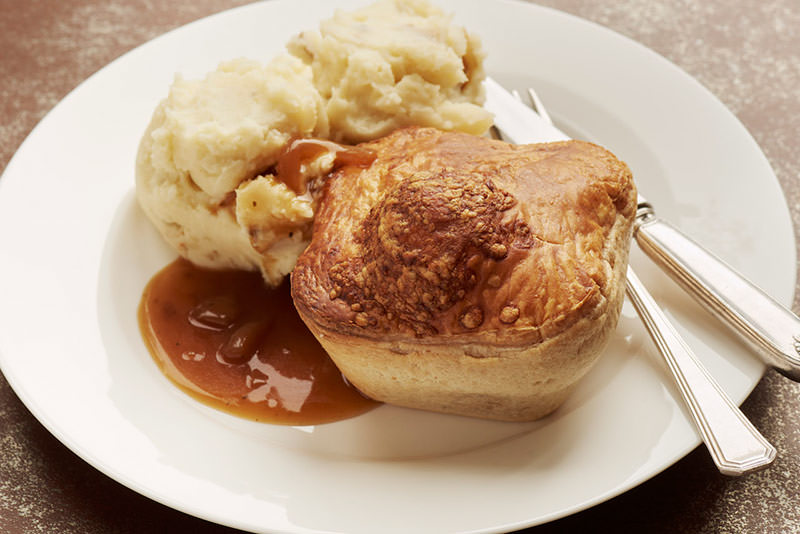 پای و پوره اصالتا غذای قشر کارگر لندن است  که تا به امروز راه طولانی را از یک استیک ساده با لوبیا تا طرز تهیه‌های مختلف امروزی آن پیموده است. همانطور که گفته شد این غذا طرز تهیه‌های فراوانی دارد اما معمولا گوشت ریزشده گاو را همراه با پوره سیب‌زمینی و سس سرو می کنند
رستوران‌ پیشنهادی: Pleminister
بنگرز و پوره (Bangers and mash)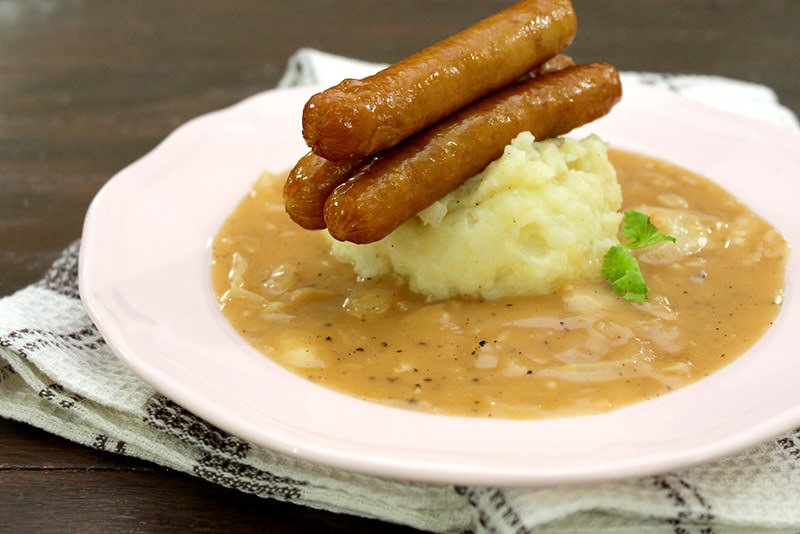 بنگرز و پوره که به سوسیس و پوره نیز معروف است (همانطور که پیدا است) از سوسیس و پوره سیب‌زمینی تهیه می‌شود. این سوسیس یک سوسیس مخصوص تهیه شده از گوشت بره یا گوساله یا سوسیس کامبرلند است. این غذا را معمولا با سس، پیاز سرخ‌شده و نخودفرنگی سرو می‌کنند.
رستوران‌های پیشنهادی: Mother Mash، Leadenhall و Soho
صدف راه‌راه (Cockles)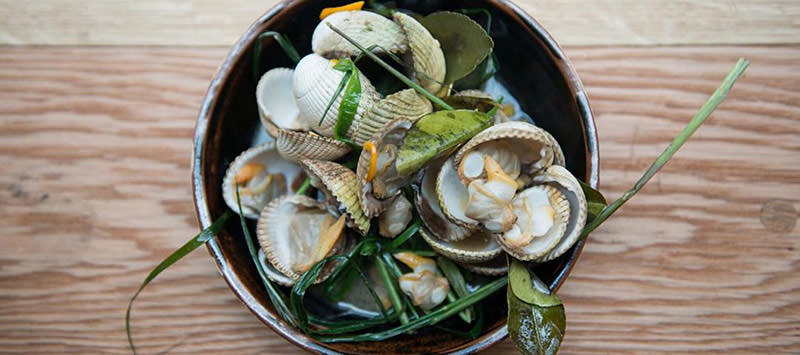 صدف راه‌راه معمولا در شهرهای ساحلی به وفور یافت می‌شود. صدف‌ها را (که بیشتر به عنوان میان‌وعده یا غذای خیابانی به شمار می‌روند) می‌جوشانند سپس با سرکه و فلفل سفید طعم‌دار می‌کنند. امروزه صدف‌ها را به صورت شور (یا ترشی) در شیشه یا در پاکت با دو چنگال به صورت آماده می‌فروشند.
رستوران پیشنهادی: بازار بورو (Borough market)
صبحانه کامل انگلیسی (Full English Breakfast)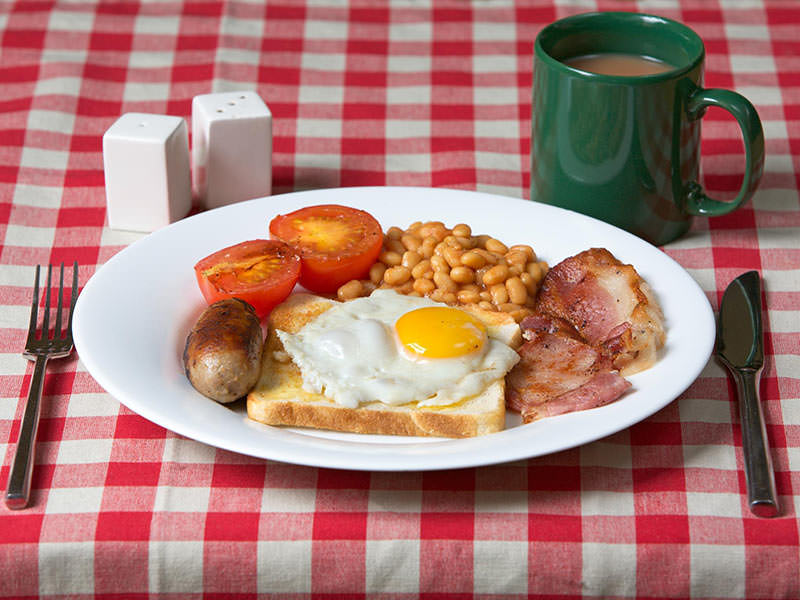 این صبحانه کامل معمولا شامل بیکن، تخم‌مرغ سرخ‌شده، تنگاب‌پز (تخم‌مرغ را با آب و سرکه سفید می‌جوشانند) یا هم‌زده، گوجه سرخ‌شده یا کبابی، قارچ سرخ‌شده، نان تست با کره و سوسیس است. علاوه بر این موارد گاهی پودینگ سیاه (بیشتر در اسکاتلند)، لوبیای پخته‌شده، سبزیجات و سیب‌زمینی نیز به صبحانه اضافه می‌شود. این میز صبحانه با یک فنجان چای یا قهوه تکمیل می‌شود
رستوران پیشنهادی: Breakfast Club
پودینگ استیکی تافی (Sticky toffee pudding)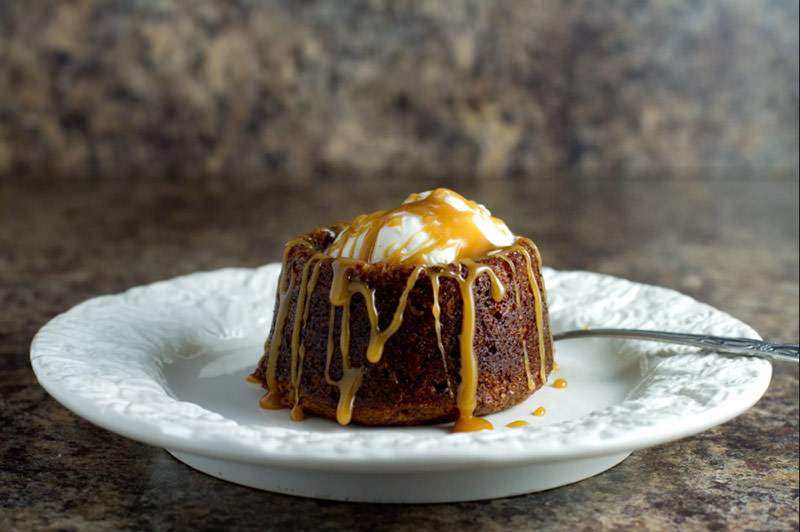 پودینگ استیکی تافی دسری خوشمزه و اصالتا اسکاتلندی است. این دسر از کیک اسفنجی خیس با خرمای ریزشده تهیه می‌شود که در آخر روی آن را با سس تافی می‌پوشانند و با کاستارد یا بستنی وانیلی سرو می‌کنند
رستوران‌های پیشنهادی: The Queens Arms، Kensington، The Holly Bush و Hampstead.
چای عصرگاهی (Afternoon Tea)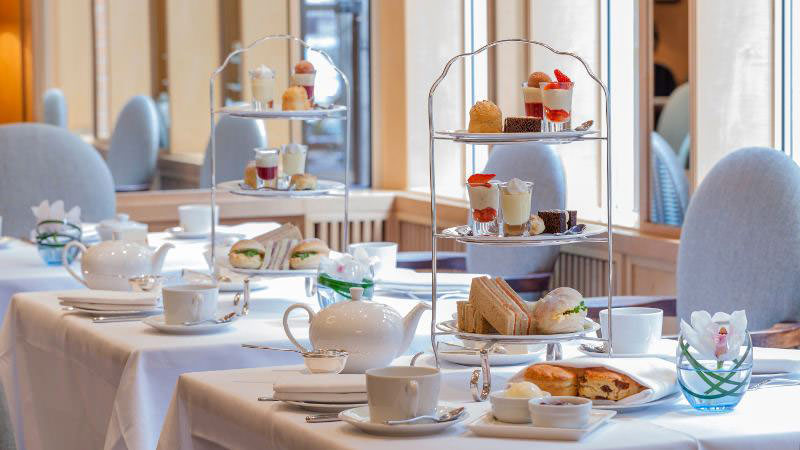 یکی از رسوم اصیل انگلیسی نوشیدن چای عصرگاهی است. این چای با ساندویچ‌های کوچک (انگشتی)، کلوچه‌های مربا یا خامه‌ای، همچنین شیرینی همراه است. بنابراین تجربه این سنت و نوشیدن این چای عصرگاهی حدود دو ساعت شما را مشغول نگه می‌دارد.
رستوران‌های پیشنهادی: Fortnum & Mason's Dlamond Jublee Tea Salon و Plccadilly.
بیف ویلینگتن (Beef Wellington)

بیف ویلینگتون نوعی غذای آماده است که از قرار دادن گوشت گاو درون خمیر پاته، (سپس درون) موادی متشکل از قارچ، پیاز، موسیر، سبزیجاتی چون زعتر و جعفری تازه و نهایتا درون خمیر هزارلا تهیه می‌شود. برای عطر و طعم بهتر به آن فلفل فرنگی و زنجبیل اضافه می‌کنند. برای تازه و مرطوب ماندن این غذا را در کرپ (پنکیک‌های بسیار نازک) نگهداری می‌کنند.
رستوران پیشنهادی: Simpsons on the Strand
سیب‌زمینی کبابی (Baked or Jacket Potato)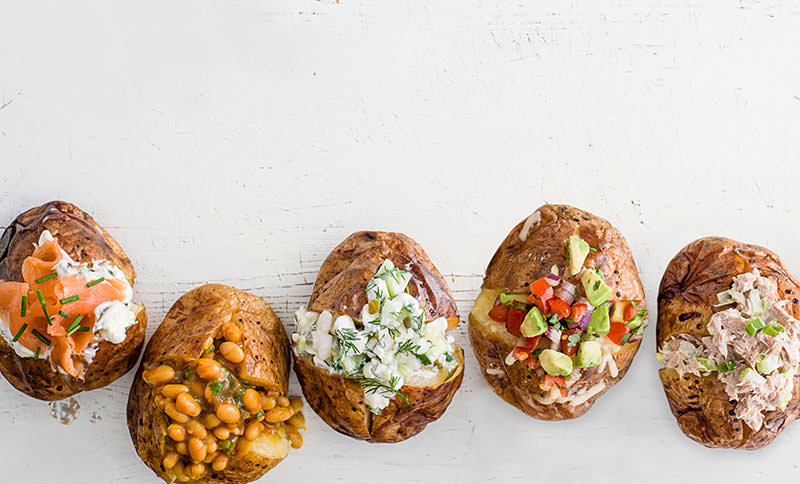 این سیب‌زمینی یکی از غذاهای مورد علاقه انگلیسی‌ها است. برای تهیه سیب ‌مینی را روی شعله گاز می‌پزند تا پوست آن ترد و شکننده شود. سپس آن را از وسط به دو نیم تقسیم کرده و بین آن کره یا هر مواد دیگری (چون تن ماهی، پنیر و لوبیا، پنیر و سالاد کلم یا سس مایونز) می‌ریزند. بسیاری از ون‌ها در خیابان‌ها این غذا را به صورت داغ می‌فروشند.
پلامنز لانچ (Ploughman's Lunch)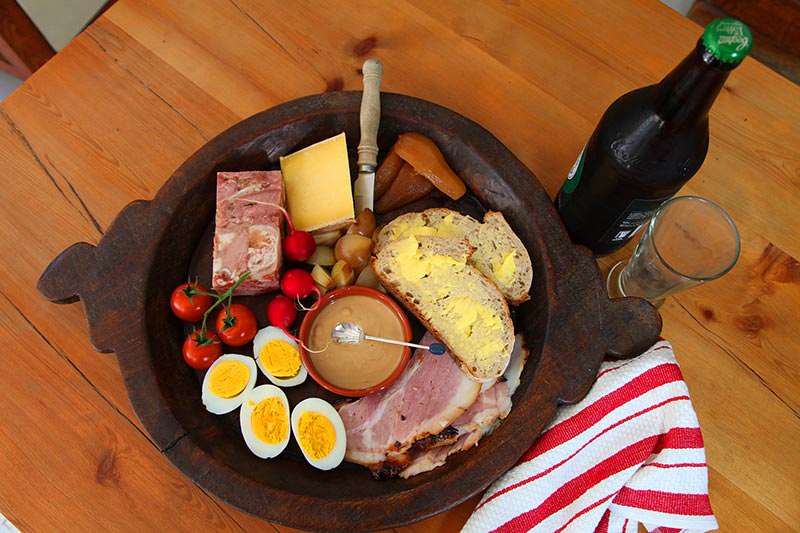 پلامنز نوعی غذای گوشتی سرد، تهیه شده از پنیر چدار، خیارشور و همبرگر است که گاهی با سیب، پیاز، تخم‌مرغ، سالاد و نان تست همراه است
پنیرهای محلی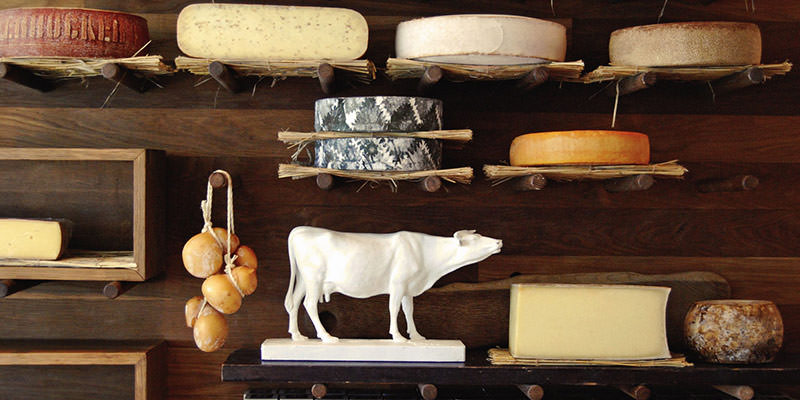 انگلیس تاریخ دور و درازی در تهیه پنیر داشته است و امروزه دارای بیش از ۷۰۰ نوع پنیر است. با اینکه لندن منبع اصلی تهیه این پنیرها نیست اما تمام پنیرها در این شهر به فروش می‌رسند
مغازه پیشنهادی: Neal's Yard Dairy دارای چندین شعبه است که یکی از آن‌ها در نزدیکی بازار بورو است.
چنـــــــــد کلمــــــــــه :
سلام: Hi
خداحافظ:Goodbye
تشکر:thanks
بله: yes
نه:No
نشـان‌های منحصــــر به فـــرد :
از کاخ‌های سلطنتی تا پارلمان مردم، از ویرانه‌های رومی تا قلعه‌ها و کلیساها، شما می‌توانید روزهای بی‌شماری را به گشت و گذار در لندن بپردازید و نگران این نباشید که جاذبه‌های گردشگری این شهر به زودی تمام شوند چرا که لندن جاذبه‌های زیادی را در خود جای داده است.
کاخ باکینگهام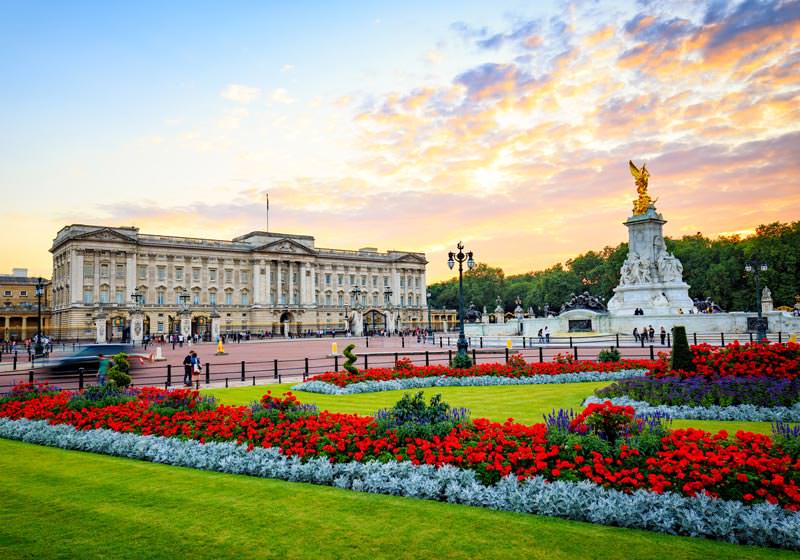 یکی از برجسته‌ترین ساختمان‌های بریتانیا کاخ باکینگهام (Buckingham Palace) است که محل برگزاری رژه گارد سلطنتی است که یکی از پرطرفدارترین نمایش‌های باشکوه لندن است.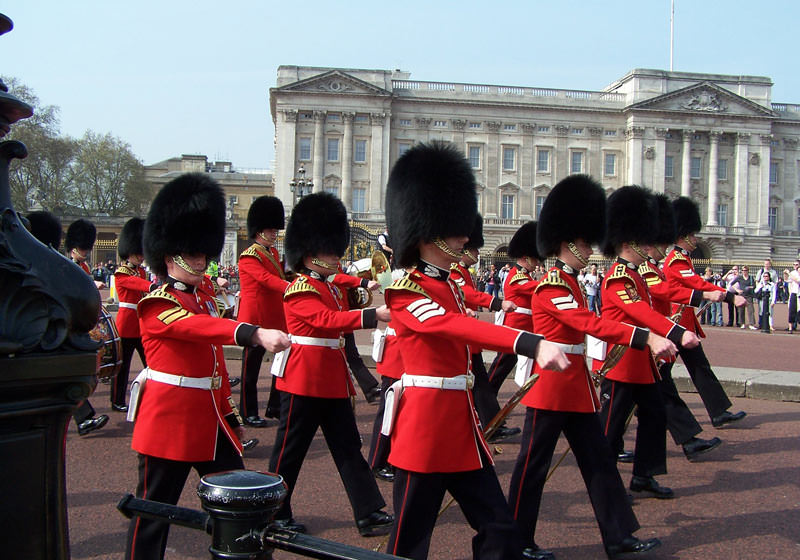 در هر فصل در ساعت ۱۱:۳۰ صبح، جمعیت برای دیدن این رژه می‌آیند. این نمایش رنگارنگ و رایگان، با نظمی دقیق به همراه موسیقی اجرا می‌شود و از کاخ سنت جیمز (St James's Palace) عبور می‌کند، که شما می‌توانید این گروه رژه را دنبال کنید. کاخ باکینگهام در سال ۱۸۳۷ ساخته شد و از زمانی که ملکه به سلطنت رسید، محل اقامت خاندان سلطنتی شد. اگر می‌خواهید بدانید ملکه در حال حاضر در کاخ ساکن است یا خیر، به پرچم بالای کاخ نگاه کنید اگر پرچم اصلی روز و شب برافراشته بود ملکه در کاخ است. البته در موقعیت‌های ویژه ملکه و خانواده سلطنتی روی بالکن مرکزی حضور پیدا می‌کنند.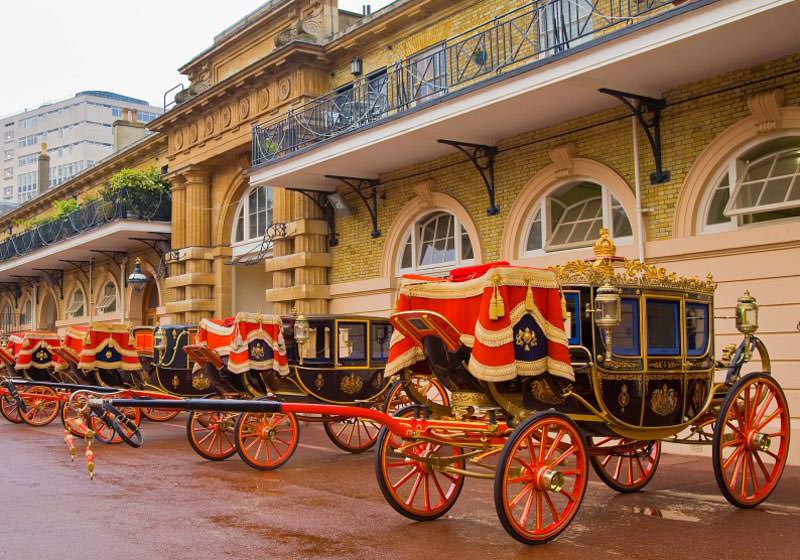 البته بازدیدکنندگان می‌توانند در تابستان که ملکه در کاخ خود در اسکاتلند است، از گالری ملکه، اسطبل سلطنتی و اتاق‌هایی که در آنجا خاندان سلطنتی به امور دولتی می‌پردازند، بازدید کنند. یکی از بهترین راه‌های بازدید از کاخ، دیدن رژه گارد سلطنتی و تجربه یک چای عصرانه است ک حدود چهار و نیم ساعت طول می‌کشد. این تور یک راه بسیار موثر برای دیدن کاخ در زمان کوتاه است و اگر اولین باری است که از این کاخ بازدید می‌کنید، با داشتن یک راهنما آگاه که بتواند تاریخ را توضیح بدهد این تجربه کاخ‌گردی را برای شما لذت‌بخش‌تر می‌کند.
موزه بریتانیا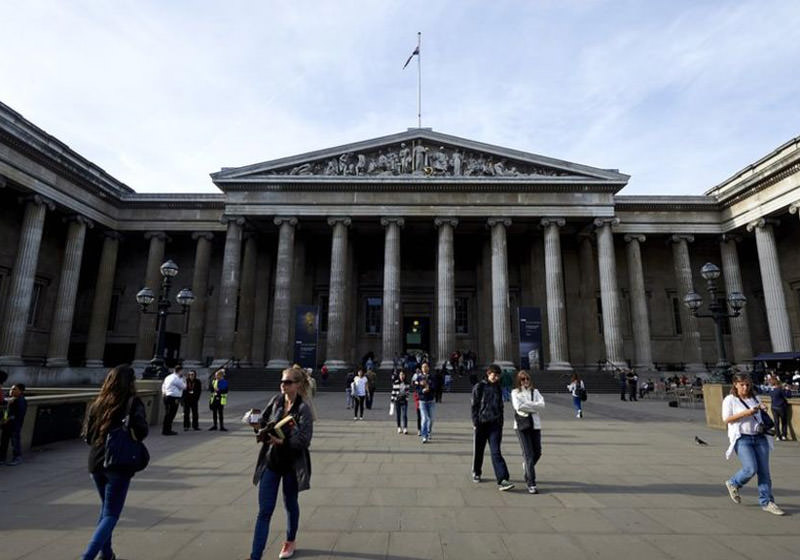 یکی از بهترین کلکسیون‌های آثار باستانی دنیا، موزه بریتانیا است که بیش از ۱۳ میلیون مصنوعات دنیای باستان را به نمایش گذاشته است. با قرار دادن آثاری از آشور، بابل، چین، اروپا و جاهای دیگر، خیلی سخت است که بدانیم از کجا  باید بازدید موزه را شروع کرد.  اما بیشتر گردشگران اول سراغ معروف‌ترین آثار این موزه می‌روند مانند: مرمر نماهای الگین (Elgin Marbles) بحث‌برانگیز از معبد پارتنون، رزتا استون (Rosetta Stone)، مجسمه غول پیکر رامسس دوم، مومیایی‌های مصری و مجموعه‌ای جذاب از نقره رومی قرن چهارم معروف به گنجینه میندوننال (Mildenhall).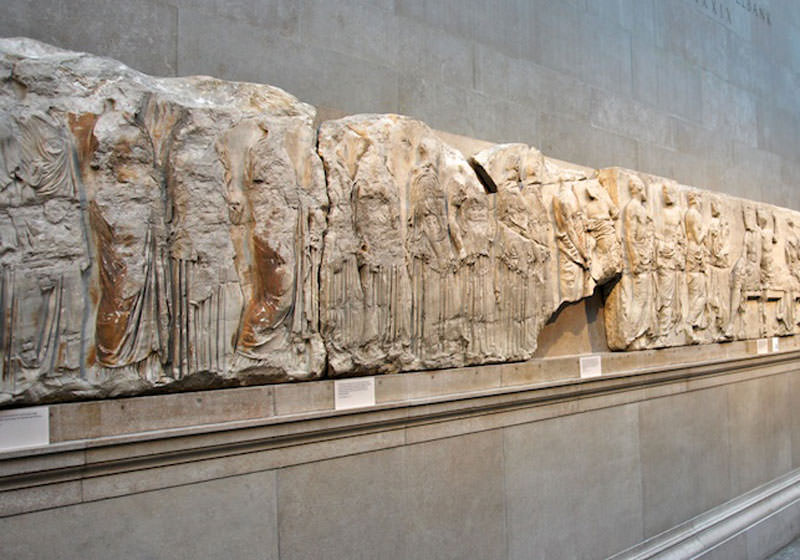 مرمر نماهای الگین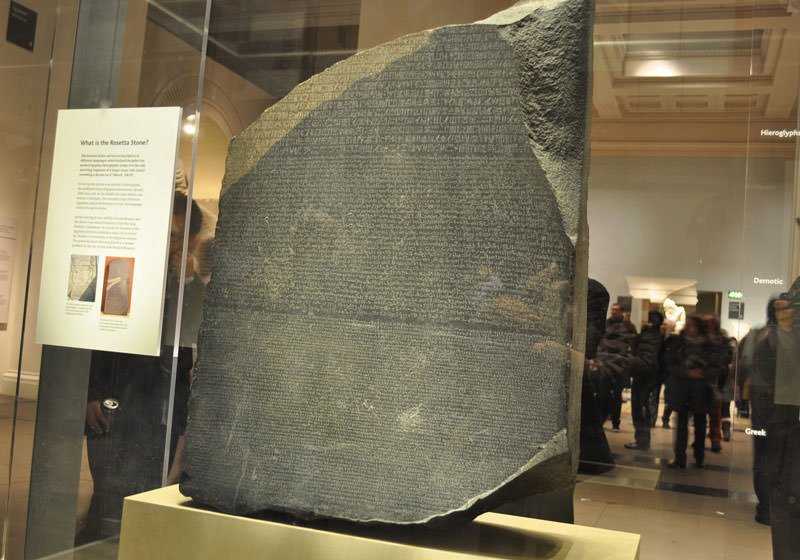 رزتا استون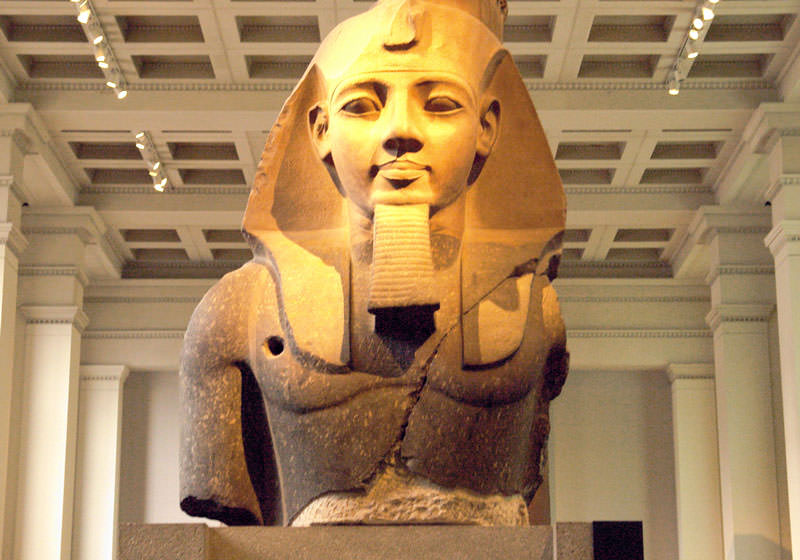 مجسمه رامسس دوم
برج لندن و تاور بریج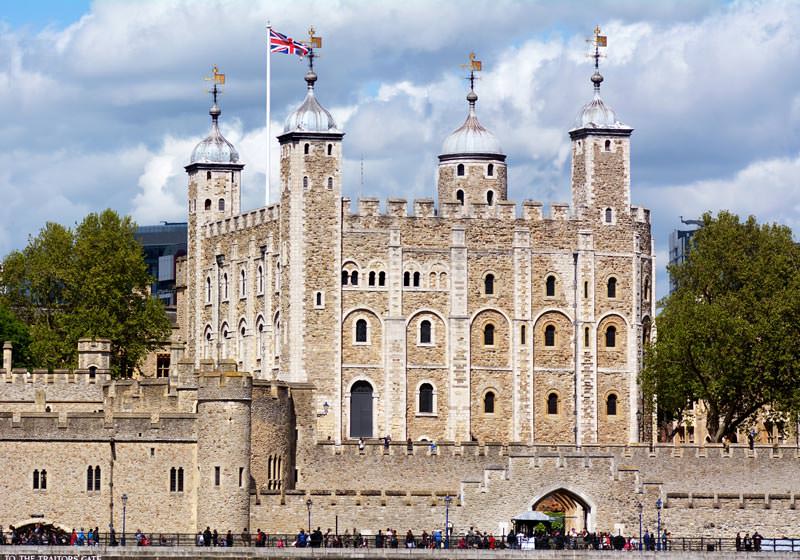 از زندان تا قصر، از قلعه گنج تا باغ وحش خصوصی نقش‌هایی است که برج لندن در میان قرن‌ها به خود گرفته است. این میراث باشکوه جهانی، یکی از برجسته‌ترین ساختمان‌های بریتانیا است. اگر به تاریخ غنی کشور انگلیس علاقه‌مند باشید می‌توانید تجربه‌ای افسانه‌ای را در این برج زیبا برای خود رقم بزنید.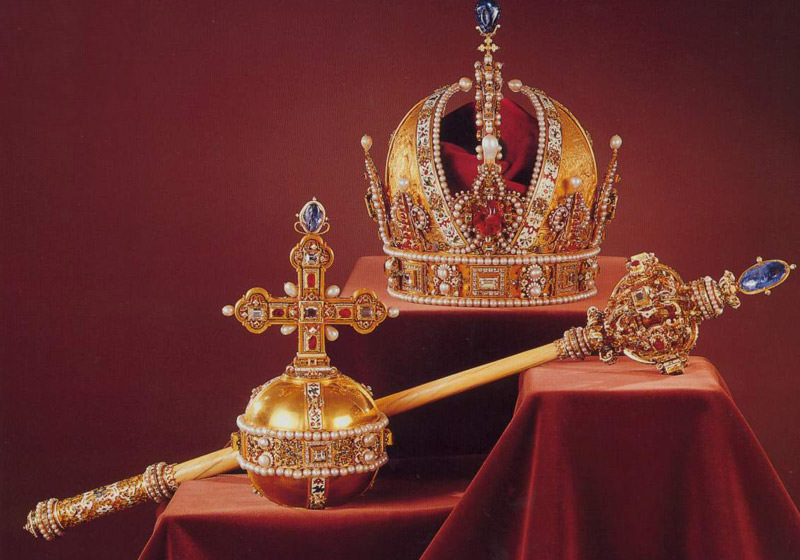 در داخل این برج عظیم سفید که ویلیام فاتح (William the Conqueror) در سال ۱۰۷۸ ساخته است، مجسمه‌های قرن هفدهمی از سلسله‌های پادشاهان به همراه سلاح‌ها و زره‌پوش‌های سلطنتی آن‌ها است. بقیه‌ی آثار برجسته می‌توان از نمایشگاه جواهرات تاج پادشاهی (Crown Jewels)، نگهبانان برج (Beefeaters)، ضرابخانه سلطنتی و نمایشگاه‌ اعدام‌های صورت گرفته، نام برد.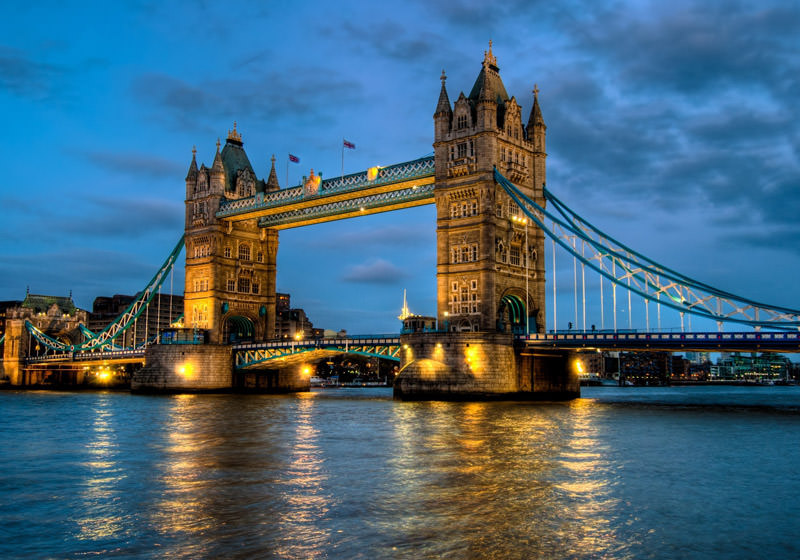 یکی از مشهورترین جاذبه‌های گردشگری در نزدیک برج لندن، تاور بریج (Tower Bridge) است، که دو برج عظیم که ارتفاع هرکدام ۶۱ متر است روی رودخانه تایمز (Thames) قرار دارند.
ساعت بیگ بن و ساختمان پارلمان بریتانیا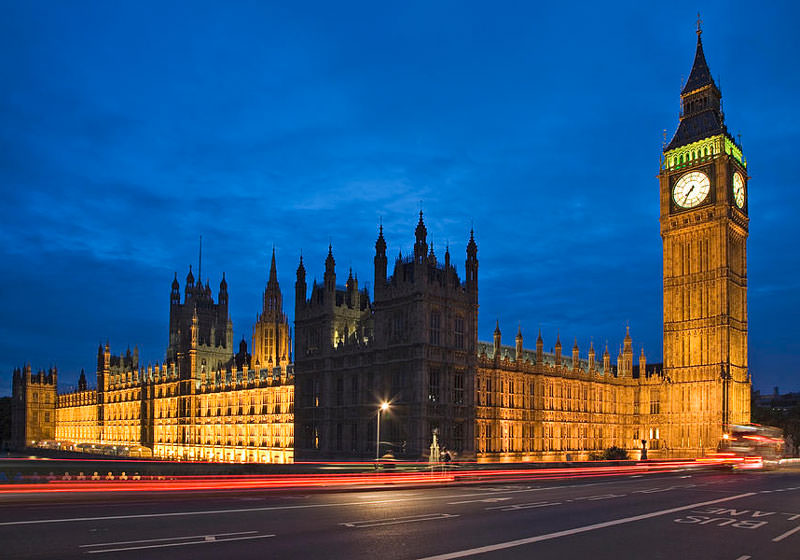 هیچ چیز بیشتر از برج ۹۷ متری که خانه‌ی ساعت غول‌پیکر که مشهور به بیگ بن (Big Ben) است، نمی‌تواند لندن را تعریف کند. ساعت بیگ بن به اندازه تاور بریج در لندن مشهور است. صدای زنگ بیگ بن در سراسر جهان به عنوان زمان پخش رادیو بی بی سی (‌BBC) شناخته شده است. در زیر ساعت بیگ بن و در امتداد رود تایمز قرن‌ها است که ساختمان پارلمان محل کابینه دولت بریتانیا است. تورهای مربوط به ساختمان پارلمان یک شانس منحصر به فرد را به بازدیدکنندگان می‌دهد که به صورت زنده مناظرات و بحث‌های سیاسی را از نزدیک مشاهده کنند.
کلیسا وست مینستر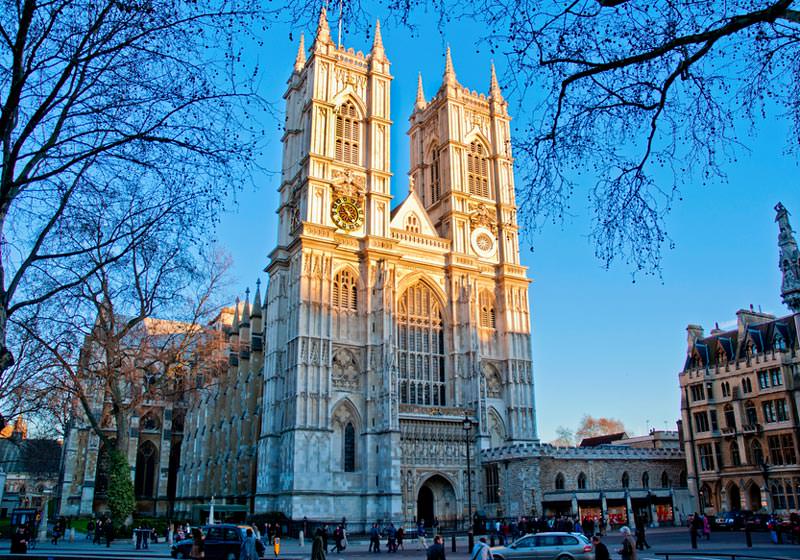 مکان دیگری در لندن که ارتباط طولانی با سلطنت بریتانیا دارد، کلیسا وست مینستر (Westminster) است. این کلیسا را در جایی ساخته‌اند که از قرن هفتم میلادی با مسحیت پیوند داشته است. این کلیسا به طور رسمی به عنوان کلیسا سنت پیتر (St Peter) در وست مینستر شناخته می‌شود. کلیسا وست مینستر را کشیش ادوارد در سال ۱۰۶۵  تاسیس کرد؛ از زمان خاکسپاری کشیش ادرواد  در سال ۱۰۶۶ تا زمان جورج دوم (George II) تقریبا ۷۰۰ سال بعد در این کلیسا نه تنها بیشتر پادشاهان تاج‌گذاری کرده‌اند، بلکه در اینجا دفن هم شده‌اند.
پارک هاید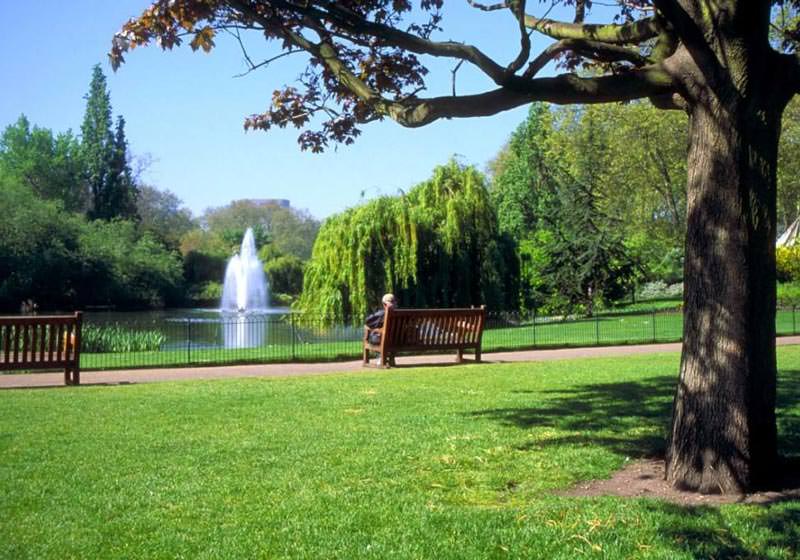 پارک هاید لندن به مساحت ۳۵۰ هکتار، بزرگ‌ترین فضای روباز پایتخت انگلیس است و از سال ۱۶۳۵ مقصد گردشگران محسوب می‌شود. . یکی از برجسته‌ترین مکان‌های این پارک، سرپنتین‌ (Serpentine) است، دریاچه‌ای که در قرن ۱۸ ساخته شده و برای شنا و قایق‌رانی از آن استفاده می‌شود.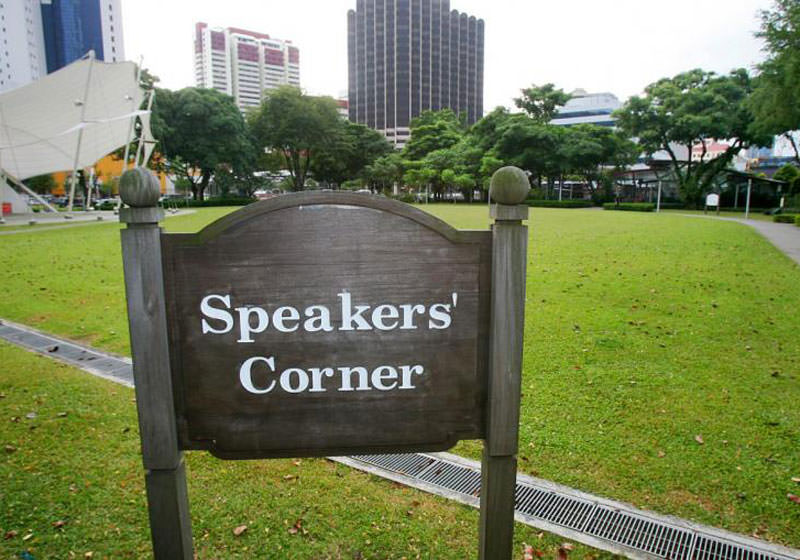 همچنین این پارک مکانی برای سخنرانی افراد دارد که به اسپیکرز کرنر (Speakers' Corner) (گوشه سخنرانان)‌ معروف است. در اینجا می‌توانید انجمن سنتی برای گفت‌وگو آزاد را پیدا کنید. یکی دیگر از نقاط جالب پارک هاید خانه اپسلی (Apsley) است،که خانه سابق نخستین دوک ولینگتون (Wellington) است که پس از پیروزی معروف خود در واترلو این خانه خریداری کرد.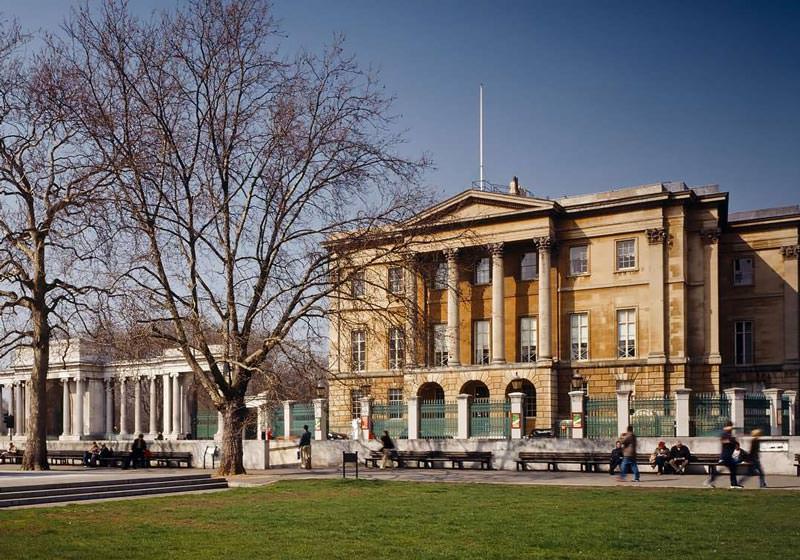 خانه اپسلی
در حال حاضر یک موزه، کلکسیون باشکوه ولینگتون از نقاشی‌های مختلف را به نمایش می‌گذارد که شامل نقاشی ساقی سویل اثر ولاسکو (Velazquez's Waterseller of Seville) می‌شود؛ همچنین در این موزه هدایایی که از طرف پادشاهان و امپراتوران اروپایی به ولینگتون اهدا شده است، نیز نمایش داده می‌شود.
اتاق جنگ چرچیل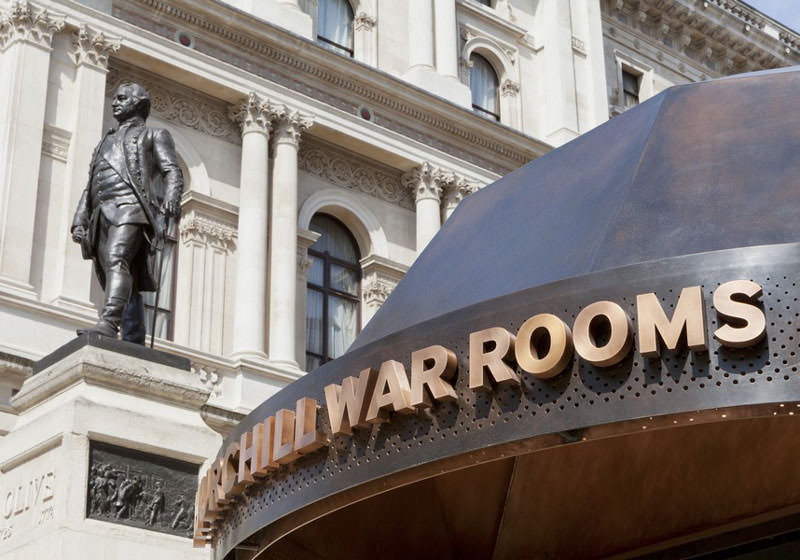 در میان سحرآمیزترین و مهیج‌ترین مکان‌های تاریخی لندن می‌توان به اتاق جنگ ویستون چرچیل نخست وزیر سابق بریتانیا اشاره کرد که در آنجا دستورات جنگی را در میان جنگ جهانی دوم صادر می‌کرد.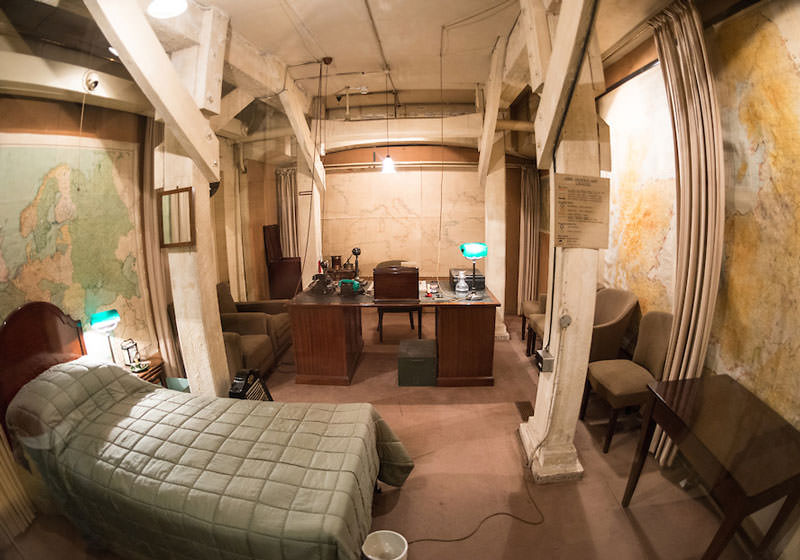 اتاق کوچکی را که در آن چرچیل استراحت می‌کرد و استودیوی رادیویی که از آن سخنرانی‌های معروف زمان جنگ خود را پخش می‌کرد، مشاهده خواهید کرد. این موزه به شما زمانی از تاریخ را نشان می‌دهد که هیچ موزه‌ی دیگری نمی‌توانید مشاهده کنید.
چشم لندن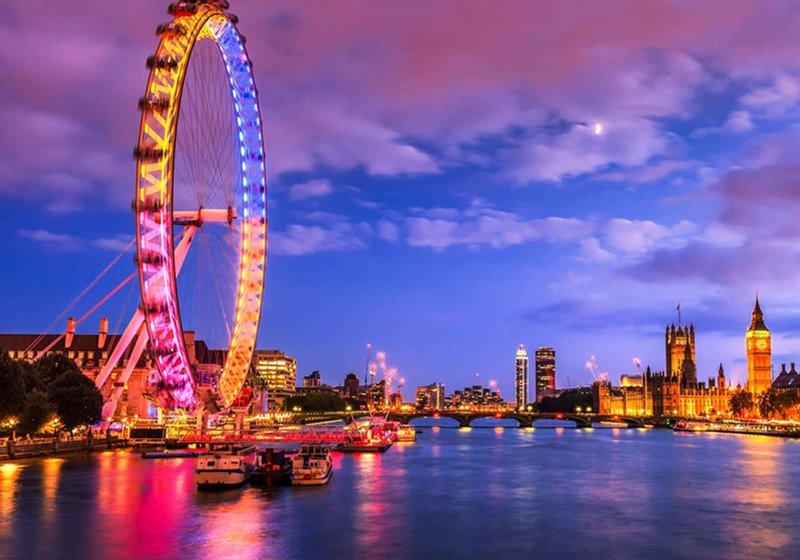 چشم لندن (London Eye)‌ در سال ۲۰۰۰ به مناسبت جشن‌های هزارساله لندن ساخته شده است که بزرگ‌ترین چرخ و فلک اروپا است. وقتی که وارد کابین شیشه‌ای این چرخ و فلک عظیم می‌شوید، یک منظره بی‌نظیر از شهر در ارتفاع ۱۳۵ متری از زمین مشاهده خواهید کرد. این سفر کوتاه تنها ۳۰ دقیقه طول می‌کشد و کم‌تر از زمانی است که شما برای گرفتن بلیط منتظر می‌مانید.
شهـــــــــرهــــــای مهـــــــم:
لندن
بیرمنگام
منچستر
لیورپول
لیدز
ناتینگهام
کمبریج
برایتون
ساوت‌همپتون
دوور
شفیلد
یورک
بریستول
نیوکاسل
هال